It's a huge day here at the Resource(ful) Room!!! I am celebrating the first birthday of my blog!!
First off I have a......
It looks amazing doesn't it!!! Special thanks to Erika and Misty at Honey Bunch Blog design for creating this awesome new design for me!!! They even took time out of their vacation to get it up and running today so I could celebrate on the exact date of my bloggiversary! They are amazing!!! They have even offered a special bloggiversary discount to my followers!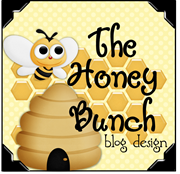 Also special thanks to Nikki at
Melon Headz illustrations
for creating that "little me" you see on the header and in my button and signature, take a look at my profile pic, doesn't it look just like me!! She is amazing too!! I LOVE IT!!
I loved creating and changing the look of my blog for different seasons but it was a lot of work and this really shows off my personality and coordinates with my classroom! It looks cleaner and hopefully will be recognizable to others! I can't tell you how many different header images are associated with my blog on pinterest it was confusing even me!!
I have also decided to start another venture......I have a.......
Next up some......
Blue and Black Binder Set
Don't forget to scroll down to see all the sets I've created, there is a yellow/black with bee theme, green/blue, and pink/green. There are binder covers, dividers, and calendars for each set so make sure you check out all the posts over the past week to get all the pieces you need. And if you still can't find them then email me and I'll send it to you!
And finally (hopefully worth the wait of this long post)!!! a
enter to win using the rafflecopter below! The giveaway will end on July 24th at Midnight, the winner will be announced on Wednesday July 25th!
a Rafflecopter giveaway
Ok, thanks for hanging on for the horribly long post, and thanks for making blogging so wonderful for me! Good luck with the giveaway and keep checking back for more freebies and some more big news in the next couple of days!