So I haven't posted much lately because I've been head over heals in a heap of IEP paperwork! I'm writing, conducting meetings, and finalizing IEP's for my students as well as students for a colleague who has been out on sick leave. It's been a bit overwhelming, while I also try to complete grad work for my current class, lesson plans, and a huge project to finish up my masters degree internship! I've been enjoying all your posts and feeling bad that I have not been inspired to write one of my own recently!
While I've been searching for inspiration I found a couple new blogs!
First a Special Education blog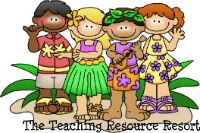 "
There's some cute freebies, and she's got a great book available you should check out!
here's a link to her face book page
as well
Teaching Resource Resort
!
And here's another one
she's got a contest going on - you could win a great common core packet when she reaches 50 followers so head on over and enter, the packet looks amazing!!
Happy Sunday everyone, I hope to be back soon with something more exciting to share!