I LOVE the bloggy exchanges Catlin and Sarah have organized for us, Christmas was wonderful, and Valentines has been so much fun..... I hope my bloggy Valentine partner thinks so too...Here's a look at what I sent to Kerri over at
Ms. Kerri and her Krazy Kindergarten
Inside this cute red box (on sale at party city for 40 cents) is a lot of Valentine love!
I sent Kerri this little mailbox filled with Reese hearts, a sticky note holder with heart sticky notes and gel pens, Valentine sock sundae, and a cute print in a red frame (she's getting married this summer so I added a tag with Mr.&Mrs. on it)!
and here's what I received from my Valentine Bloggy Buddy Jana at
Thinking Out Loud
........
Look at the box, it's so cute!! I loved everything. The candy has already come in handy!
To do list and bus notepads!!
This is a close up of the Jar she made fore me, says my name on the front!!


smile jar on the back and it's filled with my favorite treats!! So cute!!




Thank you Jana, I love it all your so thoughtful! Special thanks to Catilin and Sarah for organizing the exchanges - can't wait for the next one! Head on over to their new blog to see what everyone else got!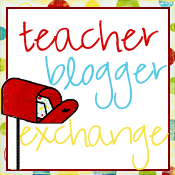 Happy Valentine's Day Everyone!!